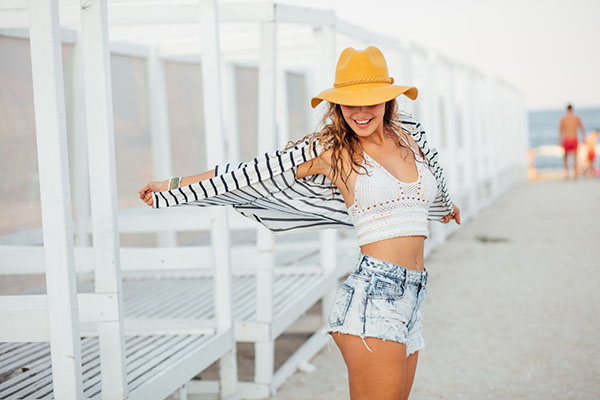 It's easy to pile on the kilos along with the winter woolies, but there are ways to prevent it!
There's no need to go on strict detox diets and slog it out at the gym for hours on end. There are easy ways to avoid unwanted weight gain – forgo high-fat temptations and turn to nutritious options instead. You'll not only feel healthier but it will give you more energy to get moving! 
Check out our 8 simple steps to help keep your waistline on track for a summertime body year-round.
1. Less is more
It's not uncommon to put on weight during winter – more food, heavier meals – so it's time to make healthier choices. By eating smaller meals more often, you will boost your metabolism and help clean up your diet.
2. Healthy colour
One of the best ways to lighten your diet is to add fresh fruits and veggies in a wide variety of colours. Choosing berries, melons and leafy greens to mix into your balanced meal will increase your intake of essential vitamins and antioxidants, helps prevent disease and will also increase energy levels.
3. Keep snacking
A successful diet is not about cutting back on food, it's about eating sensibly throughout the day so you're not starving at the end of it. Eat five small meals every day including some healthy snacks such as nuts and fruit.
4. Fresh is best
The secret to a flavourful and healing diet is to emphasise foods that are as fresh as possible. Winter's offerings include new-season apples, rhubarbs, grapefruit, pears, Asian greens, spinach, pumpkin and nuts.
5. Detoxify
Antioxidant-rich vegetables and adequate protein are needed for the removal of toxins from the system and enhance the liver's natural detox process. They'll also help your immune system to ward off colds and flus.
6. Keep meals simple
Enjoy the merit of simplicity. By using just a few fresh or seasonal foods and no processed foods, easy, uncomplicated dishes take on the taste of gourmet.
7. Water yourself
Make a concentrated effort to drink purified water often throughout the day, especially between meals. We need even more water when the body is flushing out excess toxins. Alcohol, hot drinks and juices don't satisfy the body's need for water: instead, they stress blood sugar and liver function and lead to weight gain.
8. Get motivated to exercise
If you find you're slow on giving up some of your dietary indulgences, try making your way to the gym a couple more times a week. It will motivate you to eat healthier so you're not working out for nothing.