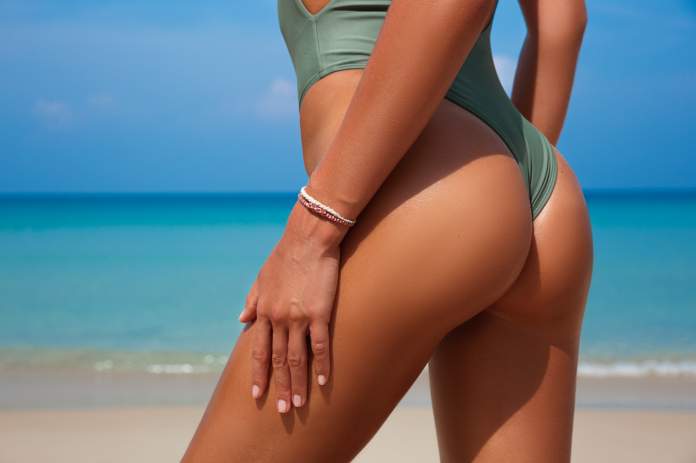 There's no denying that it's the year of the rear. From social media influencers and celeb bottom icons, Kim Kardashian, Jennifer Lopez and Nicki Minaj, the butt is back in a big way.
The number of Australian women having fat removed from other body parts and injected into their buttocks via a procedure known as the 'Brazilian Butt Lift' (BBL) has increased an estimated 26 per cent between 2015 and 2016. It's among the fastest growing aesthetic procedures in the United States and increasingly popular around the world.
However, it doesn't come without risks. Significantly higher complications appear to be associated with BBLs than with any other aesthetic surgical procedure and recent deaths have sparked an investigation. Amid these worrying reports, the US Aesthetic Surgery Education and Research Foundation (ASERF) formed a Task Force (of 11 surgeons, pathologists and statisticians) to investigate these risks and protect patients globally. ASERF issued a questionnaire to plastic surgeons worldwide inquiring about technical details that might impact the risk.
Why the increase?
The US ASERF reported the demand for the procedure 'has increased dramatically over the last five years'. According to statistics from the American Society for Aesthetic Plastic Surgery (ASAPS), 'core physicians' (plastic surgeons, dermatologists and facial plastic surgeons) performed a whopping 18,487 of these procedures in 2015 compared to 7,382 in 2011. In addition, 'as many as 25 per cent more are performed by non-core physicians' – resulting in more than 23,000 procedures performed in the US last year.
The popular consumer website RealSelf.com reported that in 2015 there were 7.2 million visits to buttock augmentation pages – a 32 per cent increase from 2014. This number of visits was exceeded only by enquiries into breast augmentation. However, there have also been increasing reports about the potential risks involved – highlighted by international headlines which accompanied incidents such as the death of high-profile former Miss Argentina, Solange Magnano, at age 38, three days after surgery 'following complications from a gluteoplasty procedure to enlarge her buttocks'.
Higher death rate 'than any other aesthetic procedure'
The Task Force says, 'Despite the growing popularity of gluteal fat grafting, significantly higher mortality rates appear to be associated with gluteal fat grafting than with any other aesthetic surgical procedure.' The gluteal anatomy is unique by having large veins that drain directly into the largest vein in the body. The cannula (a tube inserted into the body) used for injection damages the wall of a vein and the fat injected near the vein can enter the vein. If fat enters those veins, it gets carried directly to the heart and lungs. This complication can be fatal.
So, what's the rate of risk? The ASERF Task Force confirms it's somewhere between 1:2,000 and 1:6,000 and as a result has introduced protocols to maximise patient safety and minimise risk of complications and death. The Task Force emphasised that 'more research is necessary to increase the safety of this procedure' and to 'identify techniques that avoid catastrophic complications'.
It's important for patients interested in BBL to understand the risk associated with this procedure, the rate of that risk, and to discuss it thoroughly with their surgeon. It has been suggested that further studies are needed to confirm findings of this limited study and to identify techniques that may improve the safety of gluteal fat grafting. Watch this space.