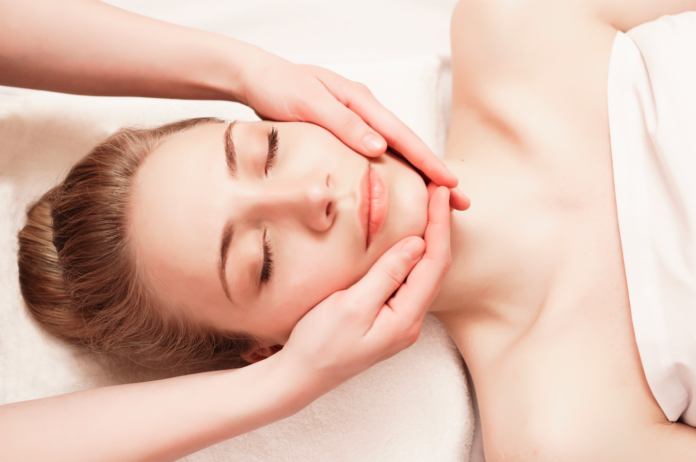 Let's face it – there's no ideal, one-size-fits-all approach to fashion, beauty or indeed life itself. So, why do we so often assume that it's different when it comes to our skin?
Because no two people have the exact same lifestyles, stresses or skin concerns, there cannot be one holy grail treatment that works for everyone. Unless, that is, the treatment being discussed has been specifically tailored to suit the needs of the individual being worked upon.
Dermalogica's new ProSkin 60 and ProSkin 30 facials have been designed with flexibility in mind. These 60 and 30 minute treatments employ a modular approach to skincare, so that they can be customised and reworked to suit the needs of each individual client every time they present at a Dermalogica clinic.
My ProSkin 60 experience:
Upon arriving at Dermalogica in Sydney's Crow's Nest, I was greeted by my Professional Skin Therapist, Skye, who conducted a quick, but thorough, evaluation of my skin, routine and lifestyle. Having pinpointed stress as a major contributing factor to the upset state of my skin – and with no objections on my part – it was decided that a head massage would be the best way to begin my treatment.
With my essential oil of choice being diffused throughout the treatment room, Skye set about inducing a state of relaxation so that my skin would be more receptive of the treatments that would follow.
Over the next hour, I would experience a variety of different therapies, each of which had been chosen to restore a different element of health to my skin. This included a deep cleanse using products for sensitive skin; exposure to a high frequency device to relieve the acne on the lower half of my face; an ultrasonic exfoliation to ensure the products used would be better absorbed; and some time spent under an LED light to help revitalise my complexion. At no stage did I feel any discomfort or as if my skin was reacting negatively to any of the products or techniques used.
Afterwards, I sat down with Skye to devise an at home skincare routine that would support and enhance the results achieved during our session. Skye was careful to recommend products which fit my needs, preferences and lifestyle and so advised that I use Dermalogica's PreCleanse Balm, Daily Microfoliant, Skinperfect Primer and Barrier Repair moisturiser.
Results:
Prior to arriving for my ProSkin 60 treatment, my skin was dehydrated, red and in the middle of an intense and persistent breakout. Upon leaving the clinic, I could see that my face was clearer and less enflamed than it had been for the weeks which preceded it. Since then, my complexion has continued to improve in clarity, hydration and vitality, with my friends and family commenting on the marked change.
What's to love about this treatment?
Its bespoke nature – the way the Dermalogica team tailor the treatment to get the most from your skin in the time you have together.
The fact that it is suitable for all ages and skin types.
Expert care – this treatment is performed by thinking therapists. It allows them to apply their knowledge freely for your benefit.
No nasty side effects – this is one of the first facials I've had without any redness or sensitivity afterwards.
It's a sensory journey enhanced by your favourite essential oils.
The results.
Booking information:
ProSkin 30 and ProSkin 60 treatments will be available at Dermalogica skin centres, stockists and salons nationwide from early 2018. ProSkin 30 costs $60 per treatment, while ProSkin 60 costs $120. Prices may vary slightly depending on the chosen provider. To find your nearest stockist, visit the Dermalogica Store Locator or call 1800 659 118.