We are subject to some of the harshest sun in the world, putting Australian consumers right up there as zealous `uptakers' of science-based skin care to combat the myriad effects of photo damage and other environmental impact.
This not only makes us a highly attractive market for top-flight international brands, but a popular destination for their innovators to spread the word about products and technology.
Mesoestetic Pharma Group is one of the world's leading pharmaceutical laboratories in the field of dermatology and cosmetic medicine, developing gold standards in skin care solutions, including clinically proven treatments of pigmentation and melasma.
In early November mesoestetic founder Joan Carlos Font visited Australia for the first time from the brand's base near Bareclona, Spain, to present to media and showcase its products and technology in a highly engaging and often humorous talk, translated by mesoestetic export manager John Singleton.
These included Cosmelan professional skin care treatments and home use products for pigmentation and melasma, new microneedling solution m.pen[pro], mct injector – a unique injection gun that combines complementary techniques mesotherapy and carboxytherapy (mesocarboxytherapy) in a single device – and the new aox ferulic serum (see breakout below).
At a superb lunch held at La Porte space in Sydney's Rosebery, Mr Font, mesoestetic general manager Mª José Almansa and export manager John Singleton, talked to guests about why the company is at the forefront of topical anti-ageing and condition-corrective formulas: its constant efforts in research, development and innovation.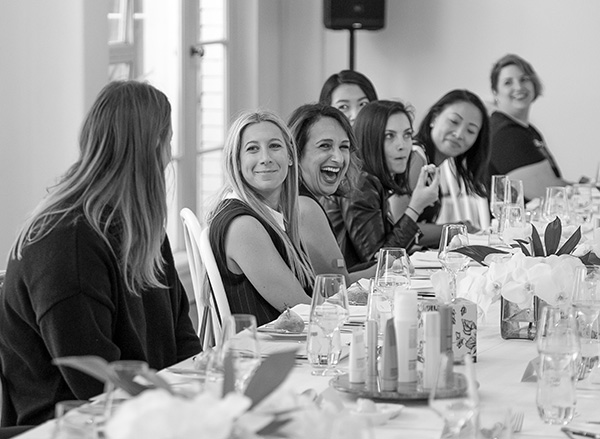 `It was my first time in Australia and it was a wonderful experience,' Mr Font says. `We have a great relationship with [distributors] Advanced Cosmeceuticals and the Australian market is a key one for mesoestetic, so we leveraged the opportunity to strengthen the existing bond and get to know the market first hand.
`Additionally, we were very happy with the outcome of the event – it was a great success and wonderful opportunity to meet the Australian media despite the language barrier.'
Adds Catherine Biedermann, managing director of Advanced Cosmeceuticals: `We were very excited to welcome Mr Font on his first visit to Australia and to allow the media to meet the man behind the mesoestetic brand.
`It was a fantastic opportunity for him to share his immense passion and vision, which has been the driving force behind mesoestetic's success – something I think the media really appreciated too.'
Behind the mesoestetic brand
Mesoestetic was founded in 1984 by Joan Carlos Font, CEO and founder of mesoestetic Pharma Group.
`At mesoestetic research is the driving force of innovation,' he told media guests at the Sydney event. `That is why we develop the majority of our large laboratory projects on-site.
`Our daily commitment is to use innovation to develop and perfect treatments in aesthetic medicine and cosmetics that offer the highest quality and efficacy.'
In its facilities near Barcelona, Spain, mesoestetic Pharma Group has three production lines as well as a Biotechnology Unit and Medical Monitoring and Follow-up Unit.
These two units enable the laboratory to take on the entire production cycle of products and perform in vitro and in vivo studies to design treatments with proven efficacy.
`The two main lines of research of the Biotechnology Unit are ageing and depigmentation,' explains Mr Font.
In addition to the work carried out internally, the laboratory's Biotechnology Unit collaborates with research centres, universities and scientific groups in order to constantly position itself at the forefront of the advances in the field of cosmetic science.
The laboratory invests 40 per cent of its profits in research and development every year. Recently, the company spent 23 million euro on building new headquarters equipped with the latest technology.
Today, the brand's products are sold in over 80 countries.
Introducing aox ferulic
Mesoestetic's latest innovation, aox ferulic, is an advanced antioxidant and cell protective concentrate that provides a biological shield against cellular oxidation produced by UVB, UVA, IR and visible light (HEV).
The light-textured and nourishing serum helps prevent and work against oxidative cell damage while protecting fibroblasts and improving collagen fibre synthesis, providing anti-ageing action. It also protects the natural antioxidant system and barrier function of the skin while helping to prevent photo- and chrono-ageing for radiant-looking skin with improved texture and tone.
Oxidation is the main cellular process that causes tissue ageing and visible signs of skin ageing; an endogenous process that accelerates as a result of environmental factors such as sun exposure, pollution and ozone as well as lifestyle factors including sleep disorders, artificial light, eating habits, stress, chemical agents and smoking.
Oxidative stress is when the amount of free radicals exceeds the antioxidant defences, damaging the DNA and causing oxidation of the epidermal lipids and proteins, leading to cell deterioration.
This in turn leads to signs of skin ageing such as age spots, wrinkles, loss of firmness, loss of moisture and nourishment, as well as dull and lacklustre skin.
Active ingredients of aox ferulic
Ferulic acid: overall antioxidant action providing protection of fibroblasts against UVA radiation.
Ascorbic acid: neutralises free radicals and helps increase collagen synthesis.
Protech-Cell Complex: an exclusive complex of vitamin E plus a synthetic active ingredient to provide advanced antioxidant protection. Helps protect against oxidation of protective epidermal lipids as well as protect against infrared radiation (IR) and visible light (HEV).