Reminiscing about your summer holiday? You don't need to go away to escape the daily grind. Here's how to create your very own pamper session without stepping a foot out the door.
Set the scene
Of all the senses, smell is most closely connected to the limbic system, the part of the brain that regulates emotion and memory. This explains how certain scents can transport you back to a particular time and place in an instant – before you even consciously register the connection.
Investing in some scented candles is a simple way to start your home fragrance collection. Candles are romantic and moody, and the good ones look as beautiful as they smell. It's hard not to fall in love with a quality candle, flickering with the warm and fuzzy smell of salted caramel or the bliss-inducing scent of a forest floor after the rain.
Another way to create a relaxation-inducing atmosphere is burning aromatic oils. This ancient practice is as enchanting today as it was thousands of years ago – instantly filling a room with warmth and positive energy. Invest in an oil burner (styles vary from simple ceramic dishes to abstract metal and glass creations) and some tea light candles and then gradually build your collection of oils. Mix and match your oils to create your own concoctions; you'll be surprised how therapeutic this creative task can be.
Lather up
Baths are the Holy Grail of relaxation. Indulge in scents such as lavender, honey, vanilla, rose or jasmine to soothe the senses after a long day at work. Use a bath oil to indulge in a night of aromatherapy, or a bubble bath for mid-week decadence. Milk has been a body beautifier for centuries, used by kings and queens to keep them looking as youthful as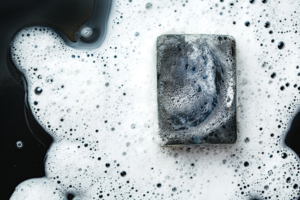 possible. Bath milk lightly moisturises the whole body and blankets the skin with nutrients.
A soothing bath is a proven mood elevator and relaxation activity to help prevent muscle injury and aches, and has long been used for internal healing therapy in Roman, Greek, Egyptian and Japanese bathhouses. Blended essential oils are definitely not a lost art and are still used to relieve pressure points of tenseness and stress, even cold and flu symptoms.
Scrub up
Body scrubs are a great way to get rid of dry skin and help circulate blood around the body. Sea salt body scrubs prime the skin for products such as moisturiser by removing dead skin cells and dirt particles, ensuring that the active components of the subsequent product are deeply penetrated into the layers of the skin.
No time for a total body scrub session? Chemical exfoliators contain mild acids that remove dead skin cells, creating a slight tingling sensation on application that only lasts a few minutes.
Scents in exfoliating creams are often activated as they are applied to the skin – which make for an energising start to a slow morning.
Exfoliation is an important part of rejuvenating the skin (not to mention imperative for faux-tan prep). Whichever exfoliator you use, make sure to follow it up with a moisturiser for skin that is soft and smooth.
Fragrant notes
Bergamot – energising and uplifting
Cilantro – relaxing, stabilising and clarifying
Cinnamon – energising and comforting
Clary Sage – clearing the mind, relieving stress and improving the memory
Coriander – invigorating, stimulating the mind and appetite (perfect for a kitchen or dining room)
Eucalyptus – clears air passages for those suffering from a cold or flu and has an antiseptic effect
Pine – deodorising, invigorating, smells like Christmas
Jasmine – soothing and anti-depressant, jasmine balances the mind, reputed to be a alluring aphrodisiac
Lavender – calming, relaxing, excellent for asthma and migraines and perfect as a sleep inducer, natural insect repellent
Neroli – relaxing, haunting floral scent often associated with brides, used to ease anxiety, fear, shock or stress
Patchouli – grounding and balancing both mind and spirit
Rose – soothing and nurturing, if beauty had a scent it would have to be rose
At-home facials
At-home facials (masks) at least once a week are an easy skin pick-me-up. The type of mask will depend on the nature of your skin and what your skin requires. If you have dehydrated skin or a complexion that needs a little extra help in the plumping area, consider sleeping overnight in your mask. When we sleep our skin cells turn over, allowing your skin to absorb nutrients more slowly.
Tips and toes
The at-home mani and pedi is now in session! It takes practice to master a great mani or pedi, but if you have the right tools you can do it. Grab an emery board, nail buffer, cuticle oil, a base and topcoat polish and you're all set. Oh, and hand cream is a necessity to keep in your handbag.
DIY spa treatments
Aphrodisiac bath blend
This skin treat helps to relax the mind, while the properties of the essential oils stimulate sexuality and euphoria.
Ingredients
2 tablespoons honey
2 tablespoons fresh cream
4 drops ylang ylang essential oil
3 drops neroli essential oil
2 drops bergamot essential oil
Method
Combine all ingredients in warm bath water and soak.
Cleopatra's secret
Cleopatra was famous for her beautiful skin. Her secret was that she soaked in baths of fresh milk. As the lactic acid in milk is an alpha hydroxyl (a natural mineral that dissolves the glue that holds dead skin cells together), it cleanses the skin down to its deepest layer.
Ingredients
2-4 cups milk
2 tablespoons pure honey
2 tsp jojoba oil (optional)
Method
Mix ingredients in a large bowl and pour into a warm bath. Soak for up to 20 minutes to infuse these beneficial ingredients into your skin. This recipe makes enough for one bath.
Hand and foot berry nice treatment
Strawberries contain a natural fruit acid, which aids exfoliation.
Ingredients
8 to 10 strawberries
2 tablespoons coconut oil or olive oil
1 teaspoon sea salt
Method
1. Mix together all ingredients into a paste. Massage into hands and feet, then rinse and pat dry.